Standard Crane
Portable Gantry Crane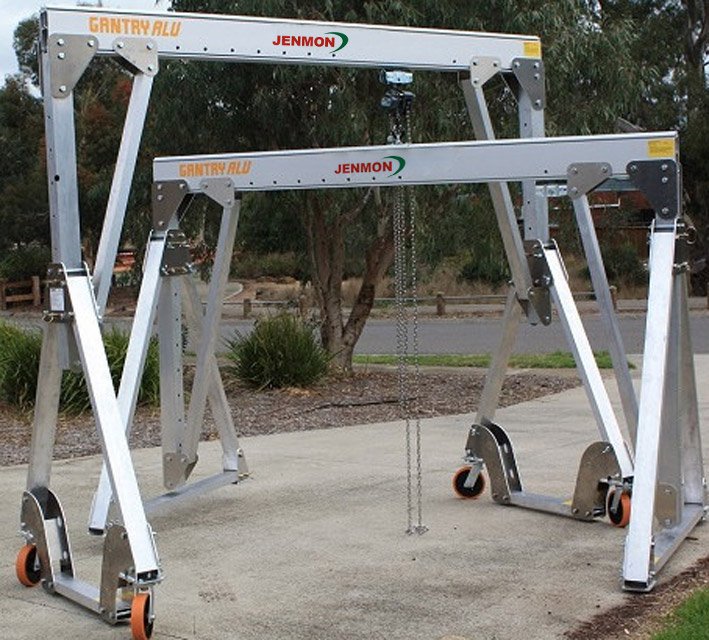 Jenmon Portable Gantry Cranes are independent manual-travel gantries which allow any crew of mounting fitters or craft mechanic to easily carry out all maintenance, dismantling re-installation.
With a capacity of 500kg to 2500kg, Jenmon Portable Gantry Cranes are specifically designed to accommodate any hoist. Since they can be equipped with either a manual or an electric chain hoist, they are ideal for every industry, and are particularly popular among companies located in ramp up factories.
The extreme mobility and stability on all surfaces are due to the 4 caster wheels, fitted with ball bearing on the shafts and king pins. These wheels formed by acetyl resin have excellent shock behaviour, and are able to withstand attack by chemicals.
Options:
Power Feeding Line
Main Isolator
Wheel Swivelling Lock
Steel / EUROSYSTEM Steel / EUROSYSTEM Aluminium
Hand Powered / Electric Powered Lifting and Travelling Motion Industries
I – Beam
Steel Hollow Profile
Aluminium Hollow Profile
Engineered Cranes
Standard Cranes
Standard Jib Crane
Hoists
Winches
Components
Lifting Accessories
Safety Accessories