Past Projects 2017
Upgrading of Jurong Port Cement Terminal 1
Jenmon International was awarded by JS Metal to deliver, install, test and commission 2 units of 10 ton Single Girder Electric Overhead Travelling Crane and 2 units of 2 ton Monorail Crane for the upgrading of Jurong Port Cement Terminal 1.
Jurong Port is a leading international multipurpose port operator handling general, bulk and containerised cargo. The upgrading of their Cement Terminal 1 was necessary due to the increasing demand. Together with JS Metal, Jenmon's cranes were selected due to its high quality and reliability to support their upgrading plan.
The cranes had to be located at an exceptionally high height of 40m in order to provide maintenance services to the respective equipment in the cement terminal. Furthermore, with the high height, work space was limited.
However, in line with one of our Core Values, our experienced and professional team was solution-driven. We managed to work very closely with JS Metal to provide a space-saving crane, as well as the best method of installation possible.
Subsequently, after a number of thorough discussions, a workable solution was conceptualised. Together with the cranes, the infrastructure of the roof was to be assembled on the ground level before being transferred up.
This not only ensured higher productivity, but also better-quality control as it could be managed at ground level if any problems were to occur.
Once again, the success of this project could not have been achieved without the commitment and passion shown by Jenmon's faithful staff, as well as the cooperation and good relationships with our customer.
Awarded by joint venture between Woh Hup and Shanghai Tunneling Engineering Co for Land Transport Authority (LTA) – Thomson-East Coast Line (TEL) – T310 project
LTA awarded the construction of Bayshore station to a joint venture between Woh Hup and Shanghai Tunneling Engineering Co. This involved the construction of the structure of the station, as well as two pairs of tunnels to Siglap and Bedok South stations.
Jenmon was then appointed by Woh Hup and Shanghai Tunneling Engineering Co to design, supply, deliver, install, test and commission 2 units of 12.5 ton Gantry Cranes to aid in this project. By having to ensure that the Gantry Crane was able to travel across the 'cross track' smoothly, and that there was good coverage of the anti-collision sensors to prevent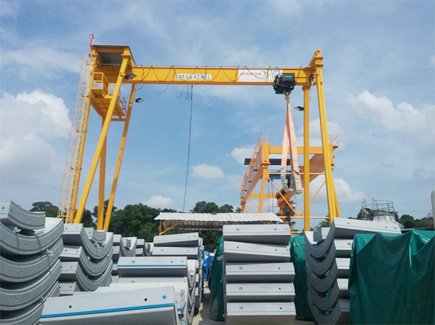 oncoming cranes from colliding into one another, this made the project exceptionally complex and unique.
Jenmon's Project and Design team had several discussions and correspondences with the customer to ensure that the cranes met the safety requirement. Monthly maintenance was also carried out throughout the entire duration of the project.
This project counts as the 2nd purchase from Shanghai Tunneling Engineering Co who has previously purchased 1 unit of 12.5 ton Gantry Crane for the LTA project – T225 Shenton Way station. This shows our constant emphasis on our Core Values, one of which is to foster long-term relationships with our customers, so as to ensure long-term continuity and success.
Supplying and Installing 2 units of 10 ton Electric Overhead Travelling Cranes for building of Proton Therapy Pte Ltd's new facility
Kienta Engineering Construction Pte Ltd is a contractor for general building, civil engineering, renovations and retrofitting works, which include turnkey services to the building industry as well as design and build projects. It was awarded to design and build for Proton Therapy Pte Ltd's new facility at Biopolis, in One-North, Buona Vista.
Biopolis is the premier research hub for Biomedical Sciences, hosting leading public and private biomedical research institutes and organisations. It also anchors the development of the entire research and development (R&D) value chain of life sciences. This encompasses basic drug discovery, clinical development and medical technology research.
Due to the use of infra-red technology, the given space had to be renovated and reinforced with special infra-red protection. With that, Jenmon was engaged to provide lifting solutions for the removal of existing slabs and beams within Biopolis's existing workspace. These beams were located on the first floor, right down to the 2nd level basement. Thus, Kienta Engineering had to rebuild the concrete walls and beams in order to suit this new technology.
Jenmon was given a very tight schedule to install 2 units of 10 ton Electric Overhead Travelling Cranes. Furthermore, they were to be built within the existing confined space, and existing building columns had to be used for its runway structure. Together with Kienta Engineering and our consultant, we managed to use the available live loads of the building to support our crane, as well as the crane structure.
This project shows Jenmon's adaptation to various circumstances, proactively providing creative solutions for our customers, thus showing our emphasis on one of our Core Values, being solution-driven.
Special Projects
Selected Past Projects