Past Projects 2010
Awarded by Ssangyong Engineering and Construction for 1 unit of 35 ton Gantry Crane for Land Transport Authority (LTA) – Downtown Line (DTL) 2 – C921 station
Founded in 1977, Ssangyong is a Korean-based multinational company with approximately 2000 employees worldwide as of June 2013. From its track records, Ssangyong has managed to strengthen its position as the preeminent construction company with vast knowledge on the latest technology. Having recorded more than 130 projects in 19 countries and more than USD 8 billion in orders, it also enjoys an international reputation as the foremost contractor in the high-end market of diverse overseas building projects, which require combined engineering and construction technology.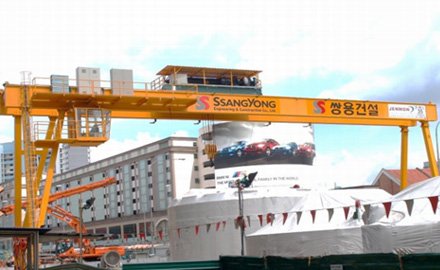 Ssangyong won the Design & Build contract in 2009 for Singapore's MRT Downtown Line Contract 921, which was a project to support the nation's infrastructure. The project comprised of a 1 km-long subway tunnel, as well as two stations. It required cutting-edge technical competence, as another subway line was running just about 5m above the site. A 25m wide Rochor canal near the site had to also be taken into consideration.
Once the project is completed, the MRT Downtown Line will give commuters a greater accessibility to the rest of the island, thus significantly improving travel time when it becomes operational in 2015.
Awarded by Sembawang for 2 units of 35 ton Engineered Gantry Cranes for Land Transport Authority (LTA) – Downtown Line (DTL) 2 – C919 station
Along with our loyal customers, Jenmon has been working in the public transport industry for many years. We strongly believe that one of the key things in order for a project to be successful is high-quality products, which we are able to provide. We also bear the full responsibility of looking over the entire process – from the beginning till the end of the operation.
As the regional crane and service provider, Jenmon was awarded by Sembawang to support this C919 project by delivering, installing and commissioning 2
units of EOT Cranes for the connection between the North-Western part of Singapore and the Central Business District (CBD), as well as the Marina Bay area via DTL 1.
Jenmon's EOT Cranes were used in the 16.6km deep tunnel, which linked a total of 12 stations and 1 depot. With its durability and solidity, the project ran smoothly and in turn, lead to its successful completion.
Awarded by Lonza Group for 10 units of Electric Hoists for Biopharmaceutical Manufacturing Facility in Tuas
The Eurochain VL Electric Hoists, customised with stainless steel chains, were used for the maintenance of containers and pumps. "The working condition in the manufacturing facility is very unique," says Jenmon's Managing Director, Mr Mark Ong. "Clean environment is absolutely necessary to prevent any contamination to the products."
In addition to the hoists, Jenmon was also engaged to install Overhead Cranes, Monorail Hoist systems and Hand Chain Trolley.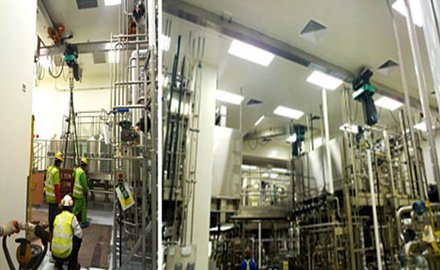 We are extremely proud of our dedication for our job, allowing us to provide the best solutions to our customers from various industries – in this case, supplying contamination-free equipment to meet the stringent needs of the pharmaceutical industry.
Awarded maintenance contract by Tuas Power for over 200 units of cranes
Tuas Power signed a two-years contract with Jenmon for the maintenance and servicing of over 200 units of hoists, including 30 tons of Overhead Cranes.
Jenmon provided several scheduled maintenance checks to carry out any corrections or small repair issues, thus avoiding the need to incur more expenses for the replacement of components. As we have professional personnel keeping track and managing the timetable, customers do not have to be concerned about the maintenance process. Moreover, the contract involved a 24/7 emergency breakdown call, where the relevant technicians were expected to arrive at the site within 2-4 hours after the call had been made. We believe that response time is very crucial for businesses that run on a shift-to-shift basis, and that immediate attention provided will reduce the losses caused by equipment downtime.
Awarded by 3M Innovation Singapore Pte Ltd for 1 unit of Goods Hoist and a Jib Crane for their Tuas Plant
In order to help our customer maximise their productivity, Jenmon supplied and installed 1 unit of Goods Hoist and a Jib Crane for their 52,000 sqm facility.
3M Innovation Singapore Pte Ltd produces major products such as industrial tapes and adhesives, safety and security solutions, homecare and stationery products, as well as health care solutions. With the help of the Goods Hoist and Jib Crane, the company was able to transport these materials more efficiently. With creativity and accuracy, Jenmon has demonstrated the ability to solve any challenges and secure our stand in the market. Furthermore, our teams of qualified and professional technicians are always ready to response to emergency breakdown calls at any time.
Special Projects
Selected Past Projects