Working Away from Home
Batam Cantilever Bridge Project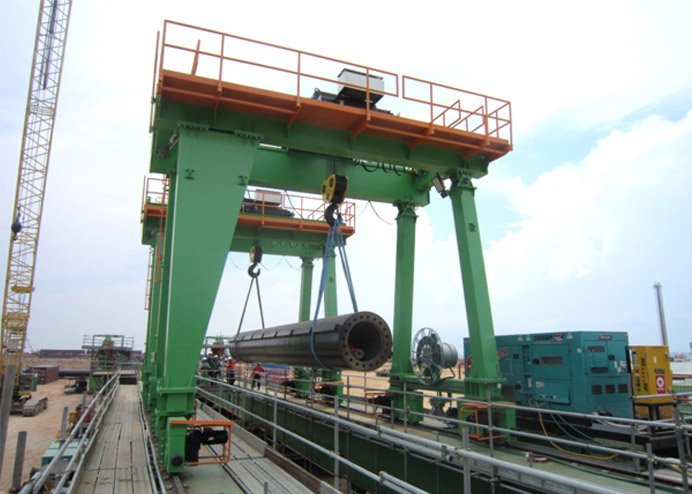 Challenge – Away Home Disadvantage
BAM International is a subsidiary of Royal BAM Group, one of Europe's largest contracting companies with extensive international experience. Their cantilever bridge was undergoing modification in Batam, Indonesia, in preparation for the largest oil and gas project in Darwin, Australia's Northern Territory. Part of the innovation included gantry cranes, which were capable of transporting large concrete beams across the self-propelled CLB.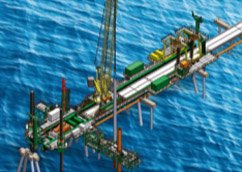 Jenmon was proud to be awarded for 2 units of 70 ton Double Girder Gantry Cranes. The whole project comprised of crane design in accordance is Australia Standards, fabrication control, arrangement of shipment, pre-assembling, testing and commissioning at their Batam yard. It also included calibration at Darwin for final commissioning.
Most of the operations were to be carried out away from the convenience of our home ground, Singapore. As such, necessary considerations and preparations were required to ensure smooth operations at the Batam yard.
Solution – Preparedness and Quality Assurance
Despite the challenges, it proved no difficult task to Jenmon. With years of experience in overseas project, Jenmon understands all successful projects derive from Total Preparations and Strict Quality Control.
Before leaving to Batam, quality control systems were in place throughout the preparation stage, as well as strict monitoring of welding quality, finishing works and dimensional control. The Logistic team, while keeping track of the crane parts, organised the shipment schedule to meet on-time delivery. All in all – To make sure our customer is satisfied with our products and services.
Purpose-built for this project, the 70 ton Gantry Cranes have a number of unique features:
1. Synchronisation made lifting simpler
Both cranes were meant to operate at the same time to carry the long and heavy bridge materials to the other side of the CLB. Operated by one operator, they will move and stop at the same time in the same direction. With this, load alignment was maintained throughout the transportation. Benefits: Making lifting simpler, safer and swift.
2. Anti-Collision Sensor Enhancing Safety
Anti-collision sensor proves to be an essential safety device, especially when machinery is working in close proximity with on-board personnel. Installed on the same CLB's tracks, our gantry cranes share the same platform with a crawler crane. Upon sensing any obstruction, the sensor stops the cranes in a safe distance, preventing any accidents – an added benefit with improves productivity and efficiency by enhancing safety.
3. Ease of Relocation
The double girder cranes had to be dismantled and transported out of Batam. "Easy to Install, Easy to Dismantle" were required to ensure that the double girder cranes were able to installed in the new location. The final product – Compact yet strong, being our motto – enables these cranes to be lifted and handled with ease.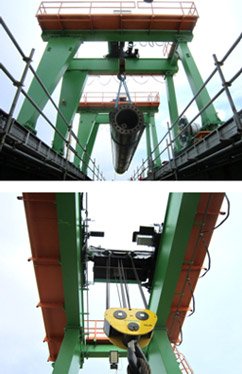 4. Storm-Locks for Extreme Weather
Situated in a cyclone-prone area, the LNG Jetty project was faced with occasionally strong winds. Catered to these extreme weathers, Storm-Locks were installed on both hoists.
Results – Dynamic Possibilities
Having a strong industry expertise, Jenmon provides the right fit to any request and is always innovating to manufacture high-quality cranes in accordance to market standards.
Thus, the higher crane standards from our client were no stranger to us. From design to delivery, a solid foundation built from our culture and core values ensured our customer's satisfaction. The cranes in this CLB project were evidences to Jenmon's capabilities.
With a growing demand of overseas projects, Jenmon sees its core competence in developing various comprehensive solutions to fit requirements from all borders.
The cranes completed the Site Acceptance Test in Batam and were sent to Darwin, where our technician continued the calibration for the final commission. Support will always be there whenever the client needs us.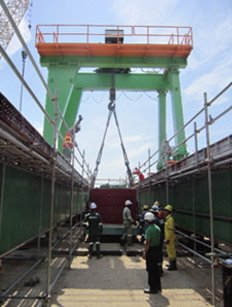 Fabrication Manager, Bam International
"I would like to commend the company for the service level and fast response at every point of time throughout the project."
Special Projects
Selected Past Projects