Introduction to Smart Lifting- Elebia Autohooks, SLU
Jenmon International Pte Ltd is honoured to be a regional distributor of leading crane hook company, Elebia Autohooks, SLU. Elebia is a well acclaimed Spanish company that specialises in automated lifting hooks.
As we move into a more technologically driven society, and where time is of the essence, Elebia provides a "Faster. Safer. Better!" way to hook up a load. Elebia's automatic hooks when paired with their eMax -remote controls, enables the customer to reduce the risk of mishaps. This is done by leveraging on advanced technology to control the lifting process at a safe distance.
Elebia's sustainable innovation of which displays and records data in real time, may aid the customer in their documentation process and encourage Corporate Social Responsibility (CSR), as the customer transitions into paperless system.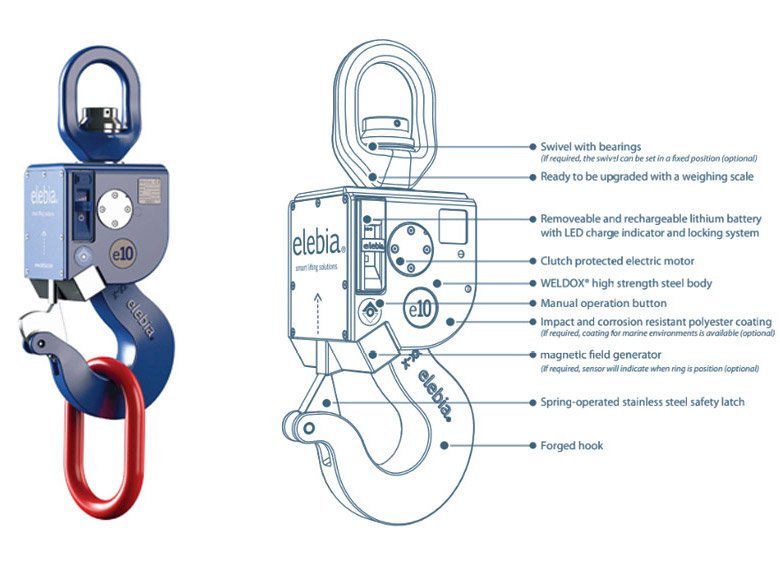 Below are some of the key Features and Benefits of Elebia's automatic crane hook and remote control:
| | |
| --- | --- |
| FEATURES | BENEFITS |
| Quality Materials | Its WELDOX body is forged to withstand tough conditions i.e. extreme temperatures, marine, DNV, etc. |
| Ease of Use | Designed to be small, light and compact, its design allows for accessible and convenient usage |
| High Capacity Battery | Optimized design facilitates efficient charging of 3 hours that can last averagely for a week |
| Fail-Safe Design | Devised under a fail-safe principle, the automatic crane hook is created to prevent the load from being released when elevated |
| Automatic Latch | Well-built interface enables the motor clutch to be protected from the impact emitted through the automatic hook |
| Longer Lasting Motor | Customers do not need to monitor their cranes' certifications via excel spreadsheet or oversight on their cranes' expiry dates as the system will prompt the expiry one month in advance. This prevents any disruption to the usage of cranes. |
| Swivel with Bearings | The bearings permit the hook to turn 360 degrees. Alternatively, the operator may secure it at each 90 degrees angle. |
| Adjustable Top Link | The framework that connects the hook with the crane can be altered to fit the circumstances |
| Magnetic System | Aims to "attract, center and orient the masterlink". Additionally, the smart sensor integrated in the magnet will signal when the ring is in right position |
| Mobile Ergonomics | User-friendly device with directional key pad that is light and comfortable to use and hold |
| Prevent and Track Overload | It may act as a weighing scale as the precise load can be measured. Moreover, an alarm can be set on the remote in the event the load exceeds capacity. |
| Synchronised | Displays and receives data in real time/ orders relayed to PLCs/PCs |
| Acquires Historical Data | Logs event file that records the activities of the hook |
In conclusion, we at Jenmon International Pte Ltd are excited to be representing Elebia Autohooks, SLU. We believe our customers can look forward to our QUALITY Lifting Products & Services and an increase in efficiency, productivity and safety at job sites.