Construction of Ramp with Jenmon Gantry Crane
Tuas West Mass Rapid Transit (MRT) Extension Depot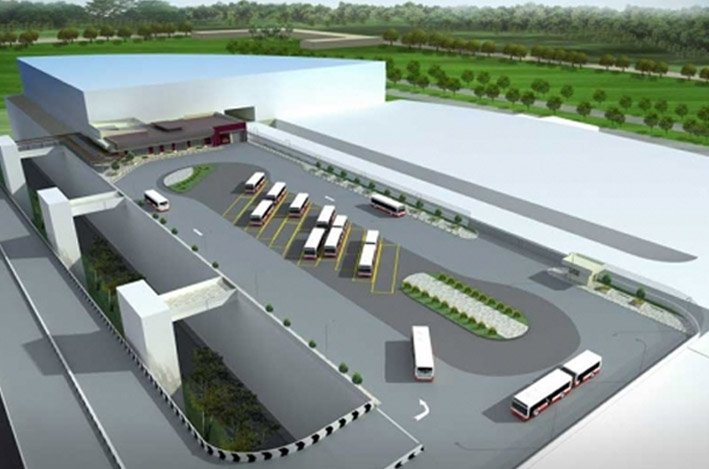 Challenge – Balancing Act
LTA awarded the construction of Tuas West MRT Extension Depot to Jurong Primewide Pte Ltd. This involved the construction of a 26-hectare depot, which will be an extension of the East-West Line from Joo Koon station.
Jurong Primewide had extensive experience in building and civil engineering works, having worked on several projects in Singapore and internationally.
Jenmon was then awarded by Jurong Primewide Pte Ltd to design, supply, deliver, install, test and commission 1 unit of 40 ton Double Girder Gantry Crane.
Along with the depot, an area was designated for a bus terminal, which took up approximately 10,000 sq metres. It was to be primarily accessible via a ramp structure, connecting directly to Tuas West Drive. Alternatively, the site could also be accessible via another ramp structure connecting to Tuas Link 4. Both ramps, with heights similar to a 7-storey HDB building, was to be constructed solely by a gantry crane. The construction involved putting together precast concretes to build the sloped platform for to the bus terminal.
However, there was a slight challenge. Each precast concrete, weighing 27 ton and measuring 2.5m by 17m, required an extraordinary method to maintain its balance while tilting the precast platform at the right angle. The limited space also rendered the Mobile Crane and Tower Crane impossible to perform the alignment with just one lifting point.
Then again, despite everything, this was no difficult task for Jenmon.

Note: Image for illustration purposes only.
Solution – Bold Solution in Construction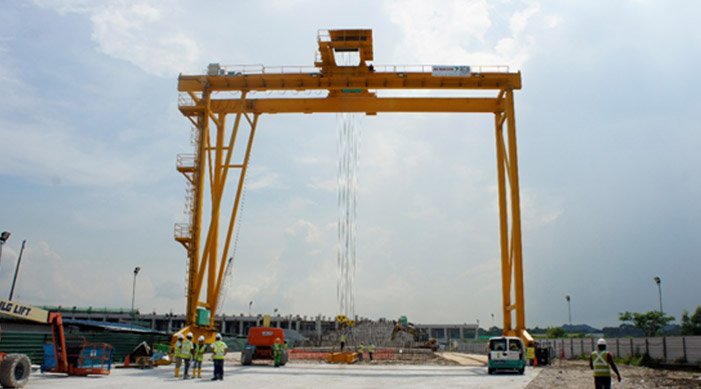 Stability was key in ensuring safety during the installation process. It took more than 1 lifting point to maintain the balance of the precast platform, as well as to tilt the 27 tons of concrete. We addressed the concerns with our design: 20 + 20 tons Double Girder Gantry Crane with Cantilever Crab Unit.
The Gantry Crane, spanned 20m with height of lift of 21m, was able to accommodate the entire ramp up to its highest point. This design consisted of 3 main features in order to meet the requirement:
Versatile Alignment
Two hoists, fitted on both sides of the cantilever crab unit, provided extended versatility while aligning the angle of the precast platform. Using a spreader beam under the hook helped to further enhance stability.
Portable Power for Reach
Having a generator set installed, the Gantry Crane was equipped with portable power to travel along the 190m installation area. This resolved the issue of the crane being unable to reach places where power was unavailable. Therefore, cost was significantly saved without additional electrical power system.
Ease of Relocation
"Easy to Install, Easy to Dismantle" is one of the main features of Jenmon's cranes. Taking this into account, relocation of the Gantry Crane to the second ramp site was less of a hassle. Final outcome: Expedited construction.
Results – The Right Partnership
Honoured to be part of our client's first project with LTA, Jenmon showcased our best effort when achieving our customer's requirements. This cost-effective lifting solution resolved the space constraint issue, thus resulting in higher productivity and safety.
Since most of the Gantry Crane's constituent parts were suspended above the ground, it did not take up much ground space. Furthermore, with the cantilever crab unit to lift both ends of the platform, the issue of possible boom collision when using the mobile or tower crane was resolved. However, the mobile crane required an even ground to manoeuvre and deploy, which, at that time, would mean taking another few more months to complete.
Incredibly, during the preliminary study, instead of taking over 12 months as estimated earlier, this design took only 6 weeks to complete.
From installation, construction of ramps to finally dismantling, Jenmon's Gantry Crane proved to be a safer and easier alternative. This was especially so when handling the heavy and long precast. It reduced the risk of accidents during lifting operations, saved cost from equipment rental and ultimately, sped up the construction. In the construction industry, the applications of cranes can vary from project to project. Therefore, it is extremely important to work with the most suitable partner for the best results.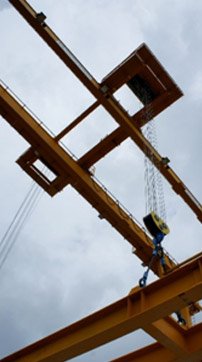 Senior Engineer, Jurong Primewide
"Project Engineer displayed strong technical knowledge, which flourish the communication during the project."
Special Projects
Selected Past Projects