Engineered Cranes
Deep Tunnel Crane
Jenmon Deep Tunnel Cranes are customised and designed specifically to the needs of each client and their applications.
Depending on the location of the mud pit, the winch will be designed according to the orientation suited for maximum efficiency. If these Gantry Cranes need to be reached outside of the runway, our professional design team is able to design the crane with a cantilever with safety interlock to prevent overloading, thus complying to the local authority and meeting our customers' requirements.
Our Engineered Gantry Cranes are available in a full range of load capacities – from 20 ton to 400 ton, including hook which can reach as deep as 70m below ground level with a fast hoisting speed of 60m/min. Furthermore, the winch motor kW can range from 75kW to as high as 350kW, ensuring the improved productive cycle time of each lift.
Designed with safety as the ultimate requirement, these fast hoisting speed cranes are integrated with a specially designed control system and appropriate Variable Speed Drive.
With these kinds of speed and adaptable capacities, Jenmon Engineered Gantry Cranes are mainly used for deep tunnelling industry, power plants industry and waste management industry.
Optional
Electronic Control and Recording Status of the Hoist and Crane
Anti-Collision Sensor
Anti-Sway System
Load Display Indicator
Twin Hoists on Same Crane
Joystick Wireless Remote Control
Energy Chain
Mobile or Fixed Operator Cabin
Storm Lock
Flood Lights
Power Plant Crane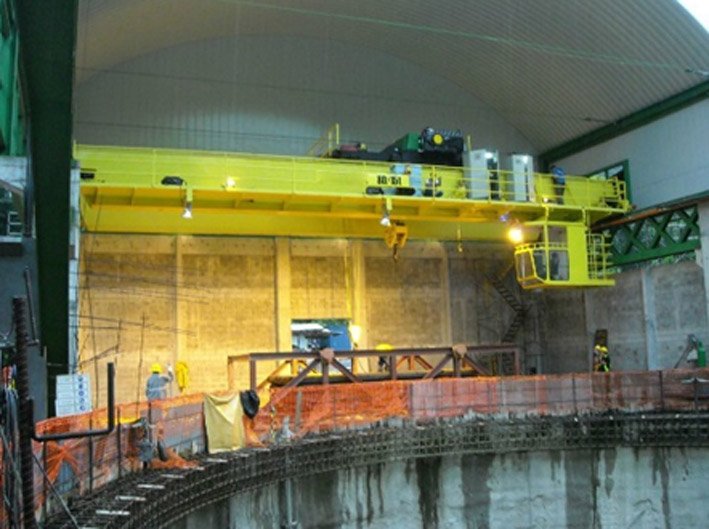 Jenmon Power Plant Overhead Cranes are exceptionally designed to solve various situations and meet our customers' needs, providing high operating efficiency and strong reliability.
Our Power Plant Overhead Cranes are capacitated from 20 ton to 600 ton, allowing a design with variable speed of lifting hook and long-lasting span length of up to 47m.
The low weight of trolley, load distribution to the steel structure and small overall dimension can be optimised for the different work areas. This can also help to reduce the construction costs for our customers. As such, these Power Plant Overhead Cranes are commonly used in deep tunnelling industry, power plant industry, manufacturing and waste management industries.
Optional
Electronic Control and Recording Status of the Hoist and Crane
Anti-Collision Sensor
Anti-Sway System
Load Display indicator
Twin Hoists on Same Crane
Joystick Wireless Remote Control
Auxiliary Hook
Electric Wire Rope Hoist Trolley
Waste to Energy Crane
The Waste to Energy Cranes move loads of garbage through the hoppers that transfer them to the incinerators to generate renewable energy, in the form of electricity, from the primary treatment of waste.
Jenmon Engineered Waste to Energy Cranes stand out as having a heavy capacity handling and precise lead time when moving into the adjacent storage of trash.
For smooth operations, a sufficient tonnage for handling is required to feed them at a certain burn rate. Jenmon cranes have remarkable features to deal with substantial loads of garbage, as well as durable hoisting equipment. Moreover, the speed range can be optimised and/or extended in accordance to the weight of the load.
With these key features, Jenmon will provide reliable Waste to Energy Cranes to achieve high productivity and increase efficiency.
Optional
Hoist Overload Limits
Safety Interlocks
Alarm Systems
Upper Limit Switches
Operator Control Station
Control Panel Room
Multi Crane Selection from Operator Control Room
Data Logger Weighing System
Heavy Duty Grabber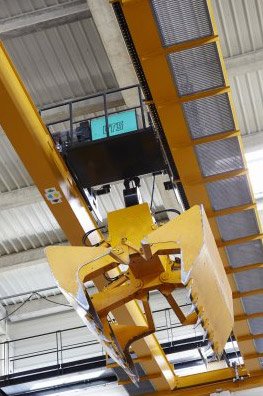 MRT Trains & Depot Crane
Jenmon Engineered Cranes play an important role in providing smooth operations for SMRT train track replacements and new depots.
With an enhancement in technology integrated into the operation of the crane, Jenmon Engineered Crane is customised to the heavy capacity of handling difficult lifting problems from the ground to the tunnel. They are also custom-made to handle the long lifting height. This stable and cost-effective design ensures the constant usage of Jenmon Engineered Cranes in the MRT Trains & Depot industry.
Through the numerous experiences of consulting and servicing in MRT Trains & Depot industry, Jenmon has proven the high reliability and safe operation of the cranes.
Optional
Electronic Control and Recording Status of the Hoist and Crane (data logger)
Anti-Collision Sensor
Anti-Sway System
Load Display Indicator
Twin Hoists on Same Crane
Joystick Wireless Remote Control
Hoist Inverter Control
Operator Cabin
Engineered Cranes
Standard Cranes
Standard Jib Crane
Hoists
Winches
Components
Lifting Accessories
Safety Accessories