Past Projects 2011
Awarded by Acergy Borealis for 17 units of cranes for a
pipe-laying vessel
One of the leading global contractors specialises in seabed-to-surface engineering, construction and services to the offshore energy industry worldwide. To match the evolving needs of deep-water subsea developments, Subsea 7 promises to set a new benchmark in the subsea world with the state-of-art strategic enabler – Seven Borealis, DP pipe lay and Heavy Lift Construction Vessel.
One major feature of the 182.2m long Swiss Army knife is the deep-water S-lay capability. Flexibility and productivity was key.
From the port, single joint pipe sections were fed into the firing line running along the length of the vessel to be welded into a continuous pipeline. After the firing line, the pipeline passed over the vessels stinger at the stern and was lowered to the seabed in an S-shaped curve.
Click here to find out more.
Awarded by Sharikat National for 4 units of Electrical Overhead Travelling Cranes for their new factory in Tuas
Jenmon was awarded by Sharikat National to supply 4 units of Single Girder Electrical Overhead Travelling Cranes for the building and leasing of their new factory in Tuas South.
This project required us to supply lifting equipment that could seamlessly transfer materials from one bay to the next, including the whole process of production to packing. In order to fulfil the customer's needs, we presented Jenmon-Verlinde VTS Hoists.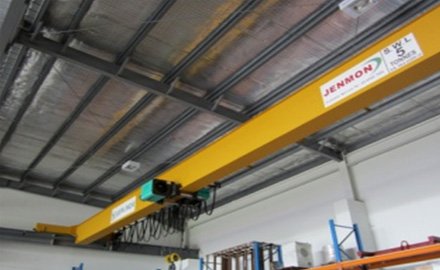 After looking at the high quality and reliable features of the new equipment, Sharikat National was extremely confident that the hoist would fulfil their requirements.
Sharikat National specialises in designing and developing, logistics and warehousing, managing and leasing industrial space to local companies and Multi-National Corporations (MNCs). Their project references include Marina Bay Sands, Resorts World Sentosa, Fusionopolis, PSA and Tan Tock Seng Hospital.
Awarded by Hitachi Plant Technologies Limited for 12 units of Cranes for Land Transport Authority (LTA) – Downtown Line (DTL) 2 – C981 Depot
Jenmon was awarded by Hitachi Plant Technologies Limited to supply and install 4 units of 10 ton Electrical Overhead Travelling Cranes, 5 units of 2 ton Electrical Overhead Travelling Cranes, 2 units of Electric Monorail Cranes and 1 unit of Pillar Jib Crane for C981, depot equipment.
This 25 hectare at-grade depot provides maintenance services for the Downtown Line of the MRT system, with the capacity of stabling up to 42 trains.
4 units of 10 ton and 5 units 2 ton Electrical Overhead Travelling Cranes were installed at the main workshop area, the locomotive workshop, as well as the permanent way workshop. 2 units of Electric Monorail Cranes were provided for the compressor test room and the automatic fare collection equipment, both of which were located in the main workshop area.
1 unit of Pillar Jib Crane was also offered in the holding bay. In addition to these cranes, the customer also required us to design and supply a runway beam with service platform.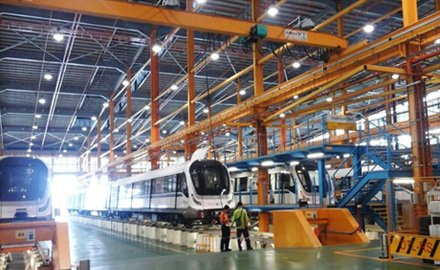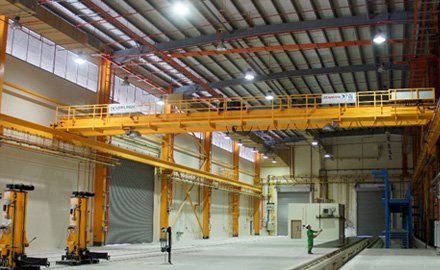 Work started from the first quarter of 2011 and was completed by the end of 2015. As an ISO 9001 certified company, we were able to ensure that proper Quality and Management Systems were in place. For example, the documentations and procedures were checked at every stage of the project.
Jenmon's professional Management and Production team worked very closely with our customer and LTA to provide design services, coupled with independent consultant's endorsement for the entire project.
Jenmon is grateful for the opportunity to be involved in Singapore's public transport system development, and will continue to do our best, striving to become the most preferable cranes and hoists provider.
Awarded by East Asia Power for 1 unit of 5 ton Single Girder Electrical Overhead Travelling Crane and modification of an existing Overhead Crane
East Asia Power, with a track record of over decades, is an experienced specialist provider of integrated engineering solutions to the international oil and gas, marine, energy, oilfield servicing and well intervention and mining industries. The company's primary focus is the offshore oil and gas sector where its comprehensive suite of engineering services can be tailored to provide engineered solutions that meet the demanding and diverse requirements of projected, new and existing operational projects.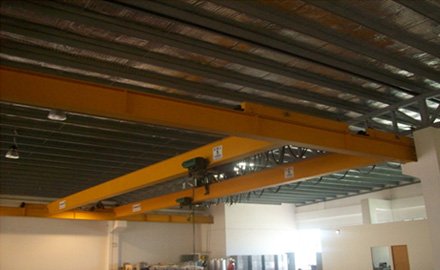 Jenmon was pleased to be awarded 1 unit of Electrical Overhead Travelling Crane, as well as provide modification works for their 1 unit of existing crane for their new workshop in Tuas. The modification works included overhauling the existing crane's hoists and components.
Jenmon's experienced management team and engineers were not only able to provide support to East Asia Power, but also understood their growing needs on cost saving. Instead of just selling new cranes, we upgraded and modified their existing crane, so as to help them save cost.
Moreover, Jenmon's confidence in servicing and maintaining all the different brands of hoists and cranes by our highly skilled technicians and support staff ensures that our customers' equipment is always ready for operation.
Awarded by MAN Diesel & Turbo SE for 1 unit of Electrical Slewing Pillar Mounted Jib Crane, inclusive of Normal Headroom and Electrical Chain Hoist
MAN Diesel & Turbo SE, based in Augsburg, Germany, is the world's leading provider of large-bore diesel engines and turbomachinery for marine and stationary applications.
With no particular crane brand in their present factory, Jenmon was able to prove the worth of our service by understanding the needs of our customer. Jenmon was awarded by MAN Diesel & Turbo SE to supply and install 1 unit of 2 ton Pillar Mounted Jib Crane. Due to the pro-activeness of our Sales Personnel, who was able to give innovative ideas and factual opinions, the sale was even more convincing.
Jenmon's Slewing Pillar Mounted Jib Crane was designed with a round hollow steel section for the pillar with partial or full rotation arm which is totally independent from the building. Subject to the capacity and length of the arm, this pillar jib can be mounted to the ground with an independent footing.
We are proud to say that Jenmon's Slewing Pillar Mounted Jib Crane was fully tested and remarkably durable. As it was simple to assemble, the reduced downtime had a positive effect on the operation.
Special Projects
Selected Past Projects